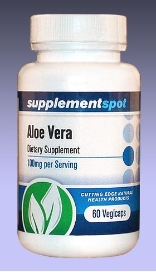 Click to enlarge image(s)
Aloe Vera 200:1 Concentrate, 60 capsules, 100 mg
$11.55 each for 2 bottles
$10.95 each for 3 bottles
$10.35 each for 4 bottles
$9.95 each for 5 bottles and more
BUY NOW!
Aloe Vera
Taking just two capsules of Supplement Spot's Aloe Vera is equivalent to drinking 2 ounces of fresh Aloe vera juice. Our Aloe Vera vegetarian capsules are made from freeze-dried Aloe vera gel concentrate without preservatives, artificial flavors, or artificial colors, and do not require refrigeration.
What is Aloe Vera?
The aloe vera plant has been used since ancient times for healing infection and burns. It was used by African hunters to reduce perspiration. Ancient records of Egyptians, Arabs, Africans and Indians show how aloe vera plant was used. The aloe vera plant also finds mention in the New Testament. Ancient Chinese used aloe vera gel for treating eczematous skin conditions. With a high water content of nearly 96%, the aloe vera plant has been hailed as a medicinal plant with many a beneficial property. The aloe vera plant can easily be grown at home - it is virtually maintenance free. You can then break off a part of the leaf and use the fresh gel to apply on any burn or other wound. . When the aloe vera leaf is broken, it oozes a thick sap that drips from the open end. This bitter sap is used to accelerate wound healing and reduce inflammation.
What does Aloe Vera do?
The benefits of Aloe vera can be availed as capsules too. These capsules contain aloe vera juice in a freeze-dried form. Aloe Vera is used in many products on account of its nutritional benefits. It contains Vitamins B1, B2, B6, C and many amino acids. As a food supplement, aloe vera capsules aid blood and lymphatic circulation and facilitate digestion.
Ingredients
Serving Size: 1 vegicap
Servings per Container: 60
| | | | |
| --- | --- | --- | --- |
| | Amount per Serving | % Daily Value | |
| Aloe Vera (Concentrated Aloe Vera Gel Powder) | 100 mg | ** | |
** Daily Value has not been established.
Other Ingredients: Vegetable Capsule, Stabilized Rice Flour
Dosage
Suggested Use: Take 1 or 2 capsules daily. Take consistently each day for best results.
Cautions
As always, consult your physician before taking supplements, especially if you have a medical or psychiatric condition, or are pregnant or lactating.
These statements have not been evaluated by the FDA. This product is not intended to diagnose, treat, cure, or prevent any disease.
Availability
Usually ships the same business day.
Manufacture
Supplementspot