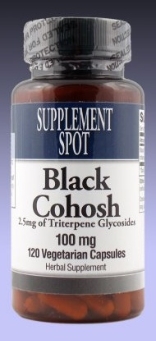 Click to enlarge image(s)
Black Cohosh, 120 capsules, 100 mg
$10.22 each for 2 bottles
$9.68 each for 3 bottles
$9.14 each for 4 bottles
$9.10 each for 5 bottles and more
BUY NOW!
Black Cohosh Extract, Nutritional Support for Menopause: supports healthy joint function and healthy inflammatory response
Black Cohosh (Actaea racemosa, Cimicifuga racemosa) is also known as black snakeroot, bugbane, bugwort, rattleroot, rattletop, rattleweed, and macrotys. The genus name Cimicifuga is from the Latin "cimicus", which means "insect", and "fugare", which means "to drive away" (the plant is known to repel insects). "Black" refers to the dark colored rhizome, and "Cohosh" is an old Native American word meaning "dark". It is a perennial that is a member of the buttercup family, and is native to North America. Black cohosh has been used traditionally in many parts of the world. The hairy roots of this plant have been used in Chinese medicine for centuries as a remedy for several conditions and disorders. Native Americans used it as a remedy for painful menses, problematic childbirth, joint pain and as an antidote for snakebite. Some physicians in America at the turn of the century relied on preparations of black cohosh for a variety of female complaints. The rhizome and root of the plant are most commonly used therapeutically. Rich in calcium, potassium, magnesium and iron, Black Cohosh root is also an abundant source of phytoestrogens.
Research Indicates
Has phytoestrogenic properties
May support healthy joint function
May support healthy inflammatory response
Ingredients
| | | | |
| --- | --- | --- | --- |
| Ingredient | Quantity | Measure | RDA * |
| Serving Size: 1 Capsule | | | |
| Certified Potency Black Cohosh Root Extract (standardized for 2.5% triterpene glycosides) | 80 | mg | Not Established |
| Black Cohosh Root | 380 | mg | Not Established |
| Other Ingredients: Gelatin, Purified Water, MCT, Vitamin E and Rosemary Oil as natural FreshCare Preservatives. | | | |
Dosage
Typical daily dosage ranges from 1-5mg Triterpene Glycosides (27-deoxyactein).
Cautions
If you are pregnant or lactating consult a health care practitioner prior to using Black Cohosh.
Scientific studies have reported that certain ingredients contained in Black Cohosh act similar to the body's natural hormone estrogen. If you have or are susceptible to hormonally related cancers, such as breast, ovarian and prostate, talk to your health care practitioner before taking Black Cohosh.
Large doses of Black Cohosh may cause nausea, vomiting, and headache. Consult your health care practitioner if these side effects become severe or do not go away.
Availability
Usually ships the same business day.
Manufacture
Supplementspot