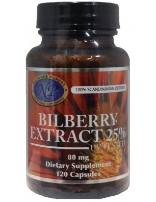 Click to enlarge image(s)
Bilberry 25% Extract, 120 capsules, 80 mg
$21.07 each
BUY NOW!
Bilberry 25% Extract
Bilberry is a Dietary Supplement used as a vision herb and for healthy eyesight.
What is Bilberry 25% Extract?
Bilberry is native to Europe and western Asia, and is related closely to blueberries and currants. These fruits contain tannins and the Vitamins A and C. It was discovered during WWII when British pilots noticed that their night vision improved after eating bilberries. Since then, research has found that Bilberry also may be useful for other eye disorders and it is considered to be the leading herb for supporting optimal eye health. Scientists also believe that Bilberry can lessen free radical damage by strengthening capillaries and improving blood flow. Bilberry is a potent antioxidant and may strengthen collagen in the ligaments, tendons and cartilage. The plant portion used is the fruit, and the active constituents are anthocyanosides.
Research indicates that Bilberry may:
improve night vision
support healthy circulation
support optimal eye health
support healthy immune function
Ingredients
Serving Size: 120
Servings per Container: 1 Capsule
| | | | |
| --- | --- | --- | --- |
| | Amount per Serving | % Daily Value | |
| Bilberry Extract (25% Anthocyanidins) (100% Scandinavian derived) | 80 mg | ** | |
| Elderberry | 140 mg | ** | |
Other Ingredients: Gelatin, Brown Rice, Magnesium Stearate
Dosage
Suggested Use: As a dietary supplement take 1 capsule daily with a glass of water and food. May take up to 3 capsules per day. Take consistently each day for best results.
Cautions
As always, consult your physician before taking supplements, especially if you have a medical or psychiatric condition, or are pregnant or lactating.
These statements have not been evaluated by the FDA. This product is not intended to diagnose, treat, cure, or prevent any disease.
Availability
Usually ships the same business day.
Manufacture
NP