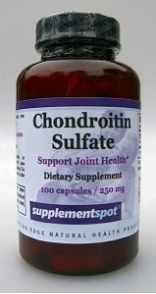 Click to enlarge image(s)
CHONDROITIN SULFAT, 100 caps, 250 mg
Chondroitin Sulfat, glucosaminoglycan: keeps cartilage fluid and elastic, enhances joint health and reduces joint pain, inhibits enzymes that cause inflammation and damage the joints
BUY NOW!
Overview
Chondroitin sulfate is a glycosaminoglycan, which is a long chain of specialized polysaccharides (or sugars). It is used in the body as a building block to form connective tissues such as cartilage; it is also present in the walls of blood vessels. It keeps cartilage fluid and elastic. Researchers believe that chondroitin sulfate works in two different ways: it provides the raw material needed to repair cartilage and it may block enzyme activity that breaks down cartilage. Recent studies indicate that chondroitin may be as effective at relief of joint pain as aspirin and other nonsteroidal anti-inflammatory drugs without the gastrointestinal problems.
Our Chondroitin Sulfate is available in 50 and 100 capsules that are 250mg each. The chondroitin sulfate used is sourced from the trachea of farm raised cattle in the united states.
Research Indicates

Responsible for repair and maintenance of cartilage and connective tissue
May limit the effects of degeneration associated with decreasing water content of cartilage
May enhance joint health and reduce pain associated with joint disorders
May inhibit enzymes that cause inflammation and damage the joints
Often used along with glucosamine and manganese for treatment of osteoarthritis
May be useful in treatment of joint-related sports injuries

Dosage
Typical dosages range from of 250-1200 mg per day.

Cautions

If you take blood thinners or aspirin on a daily basis consult a health care practitioner prior to using chondroitin.
Some chondroitin users report mild digestive distress, discontinue use and consult a health care practitioner if you experience this.
If you are pregnant or lactating consult a health care practitioner prior to using chondroitin.

Brand
Supplementspot.

Serving Size :
| | | | |
| --- | --- | --- | --- |
| Ingredient | Quantity | Measure | RDA * |
| Chondroitin Sulfate | 250 | mg | |
| Other ingredients: Rice powder, magnesium stearate, gelatin | | | |

* RDA means the Recommended Daily Allowance established by the U.S. Food and Drug Administration. This is the minimum daily amounts of specific essential nutrients necessary for healthy adults 18 year of age. Requirements increase with age and the RDA may be insufficient for older adults or those with poor health
Availability
Usually ships the same business day.