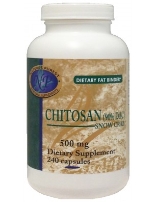 Click to enlarge image(s)
Chitosan, 240 capsules, 500 mg
$19.15 each
BUY NOW!
Chitosan
For healthy weight maintenance and cholesterol balance. Excellent for digestion.
What is Chitosan?
Chitosan is a form of dietary fiber that is most commonly derived from the hard outer shell of such sea creatures as shrimp, crabs, and other shellfish.
What does Chitosan do?
According to research, Chitosan may have the unique ability to bind to fats in the stomach, thus preventing the fats from being absorbed into the body. Scientists think this characteristic is linked to Chitosan's strong positive magnetic charge, which enables it to attract and bind to fats, which are negatively charged. The most common uses for Chitosan are for healthy weight maintenance and cholesterol balance.
Research indicates that Chitosan may:
Reduce the body's absorption of cholesterol in the foods we eat
Be more effective at lowering cholesterol than oat gum
Support healthy circulation
Research is currently being conducted using Chitosan for several medicated wound dressing products.
Ingredients
Serving Size: 4 Capsules
Servings per Container: 60
| | | | |
| --- | --- | --- | --- |
| | Amount per Serving | % Daily Value | |
| Chitosan (90%DAC) | 2,000 mg | ** | |
** Daily Value has not been established.
Other Ingredients: Gelatin, White Rice, Magnesium Stearate
Dosage
Suggested Use: As a dietary supplement take 2 to 4 capsules with lunch and dinner. Take consistently each day for best results.
Cautions
As always, consult your physician before taking supplements, especially if you have a medical or psychiatric condition, or are pregnant or lactating.
These statements have not been evaluated by the FDA. This product is not intended to diagnose, treat, cure, or prevent any disease.
Availability
Usually ships the same business day.
Manufacture
NP