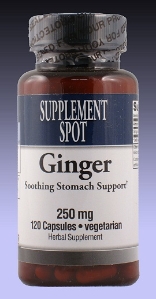 Click to enlarge image(s)
Ginger, 120 vegicaps, 250 mg
$9.50 each
BUY NOW!
Ginger: Supports cardiovascular health and maintains normal joint function, immune function, digestion and inflammatory response.
Free of all common allergens | Vegetarian | Standardized
Overview
Ginger is probably one of the first plants to be cultivated by man. Ginger is derived from the tuberous rhizome (underground root) of the perennial plant Zingiber officinale. It has been used in Asia for at least 5,000 years. The ancient Greeks used ginger to aid digestion to the extent that they added it to their bread; this was the first gingerbread. Ginger is one of the best known folk remedies for stomach upsets, indigestion, cramps, and to dispel chills. Ginger acts as an antispasmodic, increasing peristalsis, in addition to stimulating gastric acid secretion and aiding the expulsion of intestinal gas. Recent research is showing promise that ginger may be used to support cardiovascular health. Other studies indicate that ginger can be used for supporting healthy joint function as it has been used in Ayurvedic healing. A double blind study conducted in England found that Ginger was more effective in relieving nausea and motion sickness than certain pharmaceuticals. The active constituent in ginger is gingerol which is an oleoresin that gives ginger its aroma and its therapeutic properties. Plant part used is the root.
Our Ginger is standardized to 5% gingerols and is available in 120 count vegetarian capsules.
Research Indicates
May support healthy inflammatory response
May support healthy immune function
May support a healthy cardiovascular system
Studies indicate antioxidant activity
May support healthy digestion
Dosage
Typical dosage ranges from 250-750 mgs.
Cautions
If you are pregnant or lactating consult a health care practitioner prior to using Ginger.
Not recommended to be used by persons with gallstones
High doses of ginger may cause heartburn