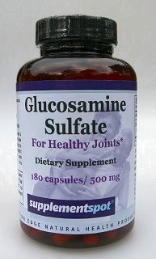 Click to enlarge image(s)
GLUCOSAMINE SULFATE, 180 capsules, 500 mg
$24.95 each for 2 bottles
$22.95 each for 3 bottles and more
Glucosamine: promotes healthy joints, relieves the stiffness, pain and swelling associated with joint disorders, helps alleviate progressive joint damage, supports healthy inflammation response.
Free of most common allergens | Boost joint function
BUY NOW!
Overview
Glucosamine sulfate is an aminopolysaccharide, which is a combination of an amino acid (glutamine) and a sugar (glucose). Glucosamine is produced by the body and provides the raw material for substances that provide the foundation for many of the body's tissues including cartilage, ligaments, tendons, collagen to mention a few. Glucosamine also supports the health of tissues that make up many of the body's organs. Glucosamine may not work as quickly as pain relieving medications, but it may be more effective over time-this is because medications tend to wear off quickly, but glucosamine continues to work, sometimes for weeks after the supplements are discontinued. Research indicates that glucosamine may help to relieve the stiffness, pain and swelling associated with joint disorders. In a double-blind clinical trial that compared administration of 1200 mg ibuprofen to 1500 mg of Glucosamine Sulfate, test subjects taking Glucosamine Sulfate experienced less pain than those taking ibuprofen. Approximately 70 countries worldwide authorize glucosamine as a 'treatment' for persons with mild to moderately severe joint disorders.
Glucosamine does not occur in foods that are readily available. The glucosamine sulfate used by Nuvite Labs is derived from the processed shells of shrimp, lobster and crab. Glucosamine sulfate is the form best absorbed by the body and the one most commonly used to support healthy joint function.
Nuvite Labs Glucosamine Sulfate 500mg is available in 90 or 180 capsules.
Research Indicates
Commonly used by medical practitioners in treatment of joint disorders
May help alleviate progressive joint damage
May promote healthy healing and lessen scarring from wounds or surgery
May support healthy inflammation response
Shown to speed healing of joint sprains and muscle strains
Shows promise in the treatment of kidney stones (more research is needed to substantiate any claims)
Dosage
Typical daily dosage ranges from 500-1500 mgs.
Cautions
If you are pregnant or lactating consult a health care practitioner prior to taking Glucosamine Sulfate.
Glucosamine sulfate may increase the risk of developing insulin resistance and could decrease the metabolic actions of insulin. Persons that have diabetes should consult a health care practitioner prior to using Glucosamine products.
Persons allergic to shellfish should not use Glucosamine Sulfate.
In rare cases mild digestive distress has been reported by those taking Glucosamine Sulfate, taking with a meal typically alleviates this response.
Brand
Nuvite Labs.
Serving Size :
| | | | |
| --- | --- | --- | --- |
| Ingredient | Quantity | Measure | RDA * |
| Glucosamine Sulfate | 500 | mg | |
| Other ingredients: Rice powder, magnesium stearate, gelatin. | | | |

* RDA means the Recommended Daily Allowance established by the U.S. Food and Drug Administration. This is the minimum daily amounts of specific essential nutrients necessary for healthy adults 18 year of age. Requirements increase with age and the RDA may be insufficient for older adults or those with poor health
Availability
Usually ships the same business day.