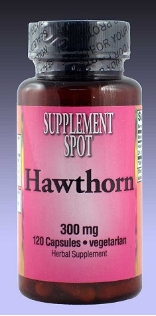 Click to enlarge image(s)
Hawthorn, 120 vegicaps, 300 mg
$14.50 each for 2 bottles
$13.95 each for 3 bottles
$13.50 each for 4 bottles
$12.95 each for 5 bottles and more
BUY NOW!
Hawthorn, a natural antioxidant: supports heart and circulatory system health, helps balance blood pressure.
Free of all common allergens | Vegetarian | Standardized herb

Historically, hawthorn (crataegus oxyacantha) was used by Roman physicians as a heart drug in the first century A.D. The literature from that period focuses on its symbolic use of hawthorn for religious rites and political ceremonies. During the Middle Ages, hawthorn was used for the treatment of "dropsy," or congestive heart failure. Today, extracts of the hawthorn plant have been used extensively in Europe to treat a variety of circulatory disorders, including high blood pressure.

Hawthorn's flowers, leaves and berries are all used in herbal supplements Each is high in flavonoid content, which gives the plant powerful antioxidant properties. Hawthorn contains three groups of compounds which are key to the plant's positive effects on the cardiovascular system. These constituent groups are the triterpenoid saponins, the amines and the flavonoids. By inhibiting free radical formation, hawthorn's antioxidant activity can be beneficial in maintaining healthy heart vessels and promoting overall heart health.
Research Indicates
Helps balance blood pressure
Believed to support heart and circulatory system health including heartbeat, blood flow, control of artherosclerotic plaque
May be useful for promoting restful sleep
Another study involving 136 patients, the hawthorn group showed improvement in the areas of heart function evaluated, whereas the placebo group did not.
Research indicates hawthorn may help preserve collagen
Ingredients
| | | | |
| --- | --- | --- | --- |
| Ingredient | Quantity | Measure | RDA * |
| Hawthorne: Serving Size 1 capsule | | | |
| Hawthorne (leaf, flower) 1.8% vitexin, 5.3 mg | 300 | mg | Not Established |
| Other Ingredients: Rice powder, magnesium stearate, silicon dioxide, cellulose | | | |
Dosage
Typical dosage is 250-300 mgs of standardized extract one to three times a day.
Cautions
If you are pregnant or lactating consult your health care practitioner prior to using Hawthorn.
There are no known reports of toxicity associated with Hawthorn.
Availability
Usually ships the same business day.
Manufacture
Supplementspot