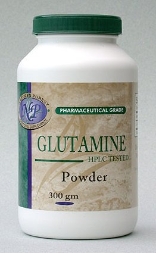 Click to enlarge image(s)
$18.95 each for 2 bottles
$17.95 each for 3 bottles and more
The Most Abundant Amino Acid.
BUY NOW!
L-GLUTAMINE in powder form. Has no additive of any kind. 100% pure L-GLUTAMINE and is guaranteed free of sugar, starch, and sodium. No artificial colors or preservatives. Use as a dietary supplement by taking one teaspoon daily, approximately 5,000 mg (5 grams) with a glass of water on an empty stomach. Take consistently each day for best results.
L-Glutamine is the most abundant Amino Acid in skeletal muscle tissues. For best results this product shuld be taken in conjunction with exercise and a balanced diet.
Brand
NP.
Serving Size :
| | | | |
| --- | --- | --- | --- |
| Ingredient | Quantity | Measure | RDA * |
| Serving Size: 1 Teaspoon (approx. 5000mg) | | | |
| L-Glutamine (Powder) | 5000 | mg | 10% |

* RDA means the Recommended Daily Allowance established by the U.S. Food and Drug Administration. This is the minimum daily amounts of specific essential nutrients necessary for healthy adults 18 year of age. Requirements increase with age and the RDA may be insufficient for older adults or those with poor health
Availability
Usually ships the same business day.