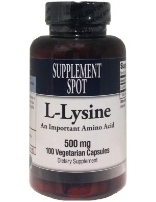 Click to enlarge image(s)
L-Lysine, 100 capsules, 500 mg
Lysine (L Lysine) is one of nine essential amino acids that the body needs for growth and tissue repair.
BUY NOW!
Research indicates that lysine:*
Assists in the production of enzymes, hormones and antibodies
May support healthy immune function
Essential amino acid for growth and building tissue
Important component for collagen formation
Important amino for proper calcium absorption
What is L-Lysine?
Lysine is one of nine essential amino acids. The body needs L-Lysine for proper growth. Because it is so important for growth, children need 3-4 times more L-Lysine than adults. It is a building block for proteins and is important for production of certain enzymes, hormones, antibodies, and collagen. L- Lysine is involved in the absorption of Calcium; thus, it is important to the health of bones and teeth. L-Lysine, along with Methionine furnishes the raw materials for the synthesis of Carnitine, which promotes fatty acid synthesis on a cellular level.
Brand
Supplementspot.
Serving Size : 1 vegicap
Servings per Container: 100
Ingredient
Quantity
Measure
RDA *
L-Lysine (as L-Lysine HCI)
500
mg
Not Established
Other Ingredients: Rice Flour, Magnesium Stearate, Cellulose
Contains NO milk, egg, fish, shellfish, tree nut, wheat, soy, artificial colors, flavors, or preservatives.

* RDA means the Recommended Daily Allowance established by the U.S. Food and Drug Administration. This is the minimum daily amounts of specific essential nutrients necessary for healthy adults 18 year of age. Requirements increase with age and the RDA may be insufficient for older adults or those with poor health
Availability
Usually ships the same business day.
Dosage
Take 1 capsule, up to six time daily, preferably on an empty stomach.
Cautions
As always, consult your physician before taking supplements, especially if you have a medical or psychiatric condition, or are pregnant or lactating.
These statements have not been evaluated by the FDA. This product is not intended to diagnose, treat, cure, or prevent any disease.