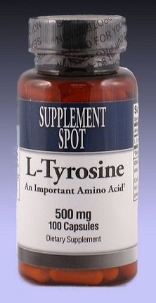 Click to enlarge image(s)
L-Tyrosine, 100 capsules, 500 mg
$12.78 each for 2 bottles
$12.11 each for 3 bottles
$11.96 each for 4 bottles
$11.70 each for 5 bottles and more
BUY NOW!
Tyrosine: supports a healthy mood and healthy brain function, is important component of thyroid hormones, supports healthy functioning of the adrenal and pituitary glands. Free of all common allergens | Non-essential amino acid.
Tyrosine is a non-essential amino acid, but is made in the body from phenylalanine (an essential amino acid). It is very important to metabolism because it is a precursor of adrenaline, norepinephrine and dopamine and thyroid hormones. In addition, Tyrosine promotes the healthy functioning of the adrenal and pituitary glands. The adrenal gland regulates the stress hormones. Therefore, it is important to supplement with tyrosine during times of stress.
Our facility uses the "L" form of Tyrosine because it is closer to that which is manufactured by the body. It is derived from sugar beets.
Research indicates
May support a healthy mood
Plays an important role in the function of the adrenal, neurotransmitter which helps maintain a healthy appetite
Has a role in the production of dopamine
May support healthy brain function
Important to the production of norepinephrine, a pituitary and thyroid glands
Important component of thyroid hormones
Ingredients
| | | | |
| --- | --- | --- | --- |
| Ingredient | Quantity | Measure | RDA * |
| Serving Size: 1 Tablet | | | |
| L-Tyrosine | 500 | mg | Not Established |
| Other Ingredients: Special plant cellulose, maltodextrin, vegitable stearates, natural silica | | | |
Dosage
Recommended dosage is 500-1000 mg per day.
Cautions
If you are pregnant or lactating consult your health care practitioner prior to taking L-Tyrosine.
In some cases high doses of L-Tyrosine may cause nausea, diarrhea and/or vomiting. If you experience these symptoms discontinue using and consult a health care practitioner immediately
Availability
Usually ships the same business day.
Manufacture
Supplementspot