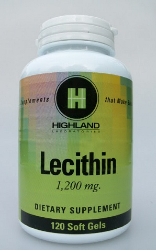 Click to enlarge image(s)
Lecithin: Major Component for Building Up Your Health.
Lecithin is a lipid required by all cells in the body. Cell membranes in the body are composed largely of lecithin. These membranes handle the flow of nutrients in and out of the cell. The protective sheaths around your brain are also made of lecithin. Muscles and nerve cells also use lecithin.
Do Not Be Confused By Lower Prices Elsewhere.
Many competitors offer food grade Lecithin with less than 3% Phosphatidyl Choline. Supplementspot's lecithin is pharmaceutical grade 12:1 Concentrate.

BUY NOW!

Lecithin is used to:

Prevent arteriosclerosis,
Protect against cardiovascular disease,
Improve brain function,
Increase energy levels,
Repair damage from alcoholism,
Help in digestion of fats,
Anti-Aging Therapies
Immune system disorders,
AIDS,
Herpes,
Chronic fatigue syndrome.


Brand
Supplementspot.

Serving Size :
| | | | |
| --- | --- | --- | --- |
| Ingredient | Quantity | Measure | RDA * |
| Serving Size: 1 Soft Gel | | | |
| Lecithin Concentrate (containing 35% (430 mg.) phosphatidyl choline) | 1200 | mg | Not Established |
| Other Ingredients: Vegetable Oils, Gelatin, Glycerin, Water | | | |

* RDA means the Recommended Daily Allowance established by the U.S. Food and Drug Administration. This is the minimum daily amounts of specific essential nutrients necessary for healthy adults 18 year of age. Requirements increase with age and the RDA may be insufficient for older adults or those with poor health
Availability
Usually ships the same business day.