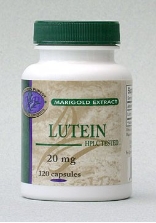 Click to enlarge image(s)
Lutein, 120 capsules, 20 mg
BUY NOW!
20 mg of Lutein is the way to go for eye health.
Research indicates that Lutein:*
Is the primary carotenoid found in the eye
Supports strong eye health
What is Lutein?
Lutein is a naturally occurring carotenoid found primarily in fruits and vegetables. When ingested by humans, it concentrates in a section of the eye called the macula, which is a small area in the center of the retina. Researchers have discovered that Lutein protects the macula by filtering out potentially damaging forms of light. Lutein has been called our "natural sun glasses". Moreover, various studies have shown that a direct relationship exists between Lutein intake and pigmentation in the eye. Corn, egg yolks, spinach, kale, romaine lettuce, peas, leeks and collard greens all contain concentrations of Lutein.*
You can also find Lutein in our Ocular Essentials.
Brand
NP.
Availability
Usually ships the same business day.