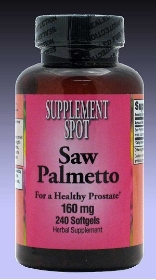 Click to enlarge image(s)
Saw Palmetto, 240 softgels, 160 mg
$26.45 each
BUY NOW!
Saw Palmetto: supports healthy prostate function, improves body strength, supports healthy hormonal balance and healthy immune function, increases libido.
Overview
Saw Palmetto (Serenoa serrulata) is native to the West Indies and the Atlantic coast of North America. Native Americans and early Amercan settlers used the berries to treat problems associated with the reproductive system, genitals and urinary tract. It has been widely used in Europe and Canada for years, and more recently in the United States. There is much research and documentation that supports the benefits of Saw Palmetto for prostate and the urinary tract. Nearly 50% of men over 50 will experience benign prostatic hyperplasia (BPH), an enlargement of the prostate. One in seven over this age will be diagnosed with prostate cancer. Saw Palmetto may be as effective in treating BPH as prescription medication. A clinical trial conducted in France reported that the number of times men had to urinate at night decreased by 45%, and urine flow rate increased by 50%. In another study, 1300 men that suffer from enlarged prostate were given Saw Palmetto extract for 12 weeks, the participants noted the following: 1) less nighttime urination 2) increased urine flow and volume. In addition, an analysis paper on the clinical trials of Saw Palmetto published by the Journal of the American Medical Association (JAMA) found that men given saw palmetto were twice as likely to report an improvement in symptoms than those given a placebo. Plant part used is the berry, and the active constituents are free fatty acids and sterols that are standardized to 85-95%.

Our Saw Palmetto is standardized to 85-95% fatty acids and sterols and comes in 60, 120, and 240 count softgels.
Research Indicates
May support healthy prostate function
May improve body strength
May be beneficial for both sexes in supporting healthy hormonal balance
May support healthy immune function
May increase libido
Ingredients
| | | | |
| --- | --- | --- | --- |
| Ingredient | Quantity | Measure | RDA * |
| Saw Palmetto (berry) | 160 | mg | |
| 85-95% fatty acids and sterols | 136-152 | mg | |
| Other ingredients: Olive oil, gelatin, glycerin, water. | | | |
Dosage
Typical daily dosage ranges from 160-320 mg of the standardized herb.
Cautions
If you have a hormone dependent illness, prostate problems or are pregnant or lactating consult a health care practitioner prior to using Saw Palmetto.
Availability
Usually ships the same business day.
Manufacture
Supplementspot