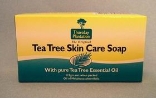 Click to enlarge image(s)
Tea Tree Oil Soap for Skin Care: Antiseptic Soap Especially Recommended to Sufferers of Acne, Psoriasis, Tinea or Other Skin Infections
BUY NOW!
Imported by Supplementspot directly from Australia, Thursday Plantations's Tea Tree Skin Care Soap has 34% Tea Tree oil by weight and is the strongest, most effective available anywhere. Double blind clinical studies have shown tea tree oil as effective as benzoyl peroxide in sucessfully treating patients' acne by reducing the number of inflamed and non-inflamed lesions (open and closed comedones), and no significant side effects were experienced by patients treated with tea-tree oil.
This amazing soap relieves the itching associated with psoriasis and dermatitis. It cleanses and closes the lesions left by these diseases.
Blackhead, whitehaeds, pimples simply disappear after a few applications.
The soap comes with added moisturizers to soothe and hydrate dry skin. It is Triple French Milled and enriched with pure Tea Tree Essential Oil. The ingrdients are Sodium talloware, sodium cocoate, purified water, tea tree (Malaleuca Alternifolia) oil, Glycerin, sodium chloride, lanolin, titanium dioxide, BHT, trisodium HEDTA. It has not been tested on animals.
Brand
Supplementspot.
Serving Size :
| | | | |
| --- | --- | --- | --- |
| Ingredient | Quantity | Measure | RDA * |
| Ingredients: Sodium Tallowate, Sodium Cocoate, Purified Water, Tea Tree Oil (Melaleuca Alternifolia), Glycerin, Sodium Chloride, Lanolin, Titanium Dioxide, B.H.T., Trisodium HEDTA. | | | |
| 3 Bars: Multiple Washings | 115gm | Bar | NA |

* RDA means the Recommended Daily Allowance established by the U.S. Food and Drug Administration. This is the minimum daily amounts of specific essential nutrients necessary for healthy adults 18 year of age. Requirements increase with age and the RDA may be insufficient for older adults or those with poor health
Availability
Usually ships the same business day.