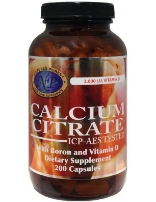 Click to enlarge image(s)
Calcium Citrate, 200 capsules, 1000 mg
$19.15 each
BUY NOW!
Calcium Citrate
Supplement Spot's Calcium Citrate is an excellent source for your daily calcium intake.
What is Calcium Citrate?
Calcium is the most abundant mineral in the body (the human body contains approximately 2.5 pounds) and 99% of this is stored in the bones and teeth. The remaining Calcium is in the bloodstream and the fluids surrounding the cells. It is an essential mineral with a wide range of biological functions. Calcium absorption declines with age. If the body does not get enough Calcium, it will rob it from the bones, causing them to become porous and fragile. It cannot be over-stressed that Calcium supplementation is of major importance for maintaining strong, healthy bones and slowing bone loss..
Research indicates:
Promotes strong bones and teeth
Helps maintain normal PH levels
Required nutrient for muscle contraction
Necessary nutrient for healthy blood clotting
Assists in transmission of nerve impulses
May support healthy cholesterol levels
Plays an important role in producing hormones and enzymes that regulate digestion and metabolism
Ingredients
Serving Size: 5 Capsules
Servings per Container: 40
| | | | |
| --- | --- | --- | --- |
| Ingredient | Quantity | Measure | RDA * |
| Calcium (Citrate) | 1000 | mg | 100% |
| Magnesium (Aspartate) | 500 | mg | 100% |
| Vitamin D (Cholecalciferol) | 400 | I.U. | 100% |
| Boron (Aspartate) | 3 | mg | Not Established |
| Other Ingredients: Gelatin, White Rice, Magnesium Stearate. | | | |
Dosage
As a dietary supplement take 5 capsules daily with a glass of water and food. Take consistently each day for best results.
Cautions
Do not use if tamper resistant seal is missing or broken. Seek the advice of a health care professional before using.
Availability
Usually ships the same business day.
Manufacture
NP