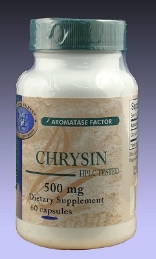 Click to enlarge image(s)
Chrysin, 60 capsules, 500 mg
$25.87 each
BUY NOW!
A Potent Flavonoid Best Known for Sexual Enhancement
Chrysin (5,7- Dihydroxyflavone) is a potent bioflavonoid found in the plant Passiflora coerula, a member of the passion flower family. Chrysin is the most powerful of several flavonoids that have been tested and found to exhibit anti-estrogenic activity in-vitro by inhibiting the aromatization process. This product has been shown to have a significant effect in modulating the response to stress. It binds to receptors in the brain known as the benzodiazepine specific receptor sites. As a result, Chrysin can aid athletes in dealing with the stress of training.
Ingredients: Each capsule contains 500 mg of Chrysin (5,7-Dihydroxyflavone). Other ingredients: cellulose and magnesium stearate. Capsule consists of gelatin.
Dosage: As a dietary supplement, take 1 to 4 capsules per day with meal or as directed by your qualified health consultant. Do not use if taking prescribed medication are pregnant, lactating, or have prostate or reproductive abnormalities.
Availability
Usually ships the same business day.
Manufacture
NP