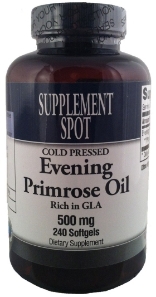 Click to enlarge image(s)
Evening Primrose Oil, 240 softgels, 500 mg
$18.23 each for 2 bottles
$17.55 each for 3 bottles
$16.88 each for 4 bottles
$16.20 each for 5 bottles and more
BUY NOW!
Native to North America, the evening primrose is a tiny and short-lived wildflower and not a true primrose. When Europeans found it and took it to Europe, its purported healing properties for skin diseases and flesh wounds quickly earned it the name "King's cure-all." Evening primrose is now grown in 30 or more countries, and the oil pressed from its seed is marketed as a nutritional supplement and as a great source of linoleic acid.
Evening primrose oil, however, is a source not only of linoleic acid but also of another kind of fatty acid called gamo-lenic acid (also known as gamma linolenic acid, or GLA). This fatty acid, normally manufactured by the body from linoleic acid, is important in many ways. It is transformed by the body eventually into eicosanoids, hormone-like chemicals that include the prostaglandins. Prostaglandins help control such processes as inflammation, blood clotting, and cholesterol synthesis.
All Evening primrose used in our brands is cold pressed without the use of solvents such as hexane.
Research Indicates
May have positive effects on cardiovascular health
May support breast health
May support healthy weight
May support healthy immune function
May support healthy joint function
May support skin health
Ingredients
| | | | |
| --- | --- | --- | --- |
| Ingredient | Quantity | Measure | RDA * |
| Serving Size: 1 softgel | | | |
| Evening Primrose Oil (seed) | 500 | mg | Not Established |
| Total Fat | .5 | g | 1 |
| 50mg gamma-linolenic acid; 373mg linoleic acid; 72mg oleic, palmitic and stearic acids | | | |
| Other ingredients: Gelatin, water, glycerin. | | | |
| Contains no milk, egg, fish, shellfish, tree nut, wheat, soy, artificial colors, flavors or preservatives. | | | |
Dosage
Typical dosage ranges from 2000-4000 mgs. daily
Cautions
If you have epilepsy or any seizure disorder, schizophrenia, or are pregnant or lactating consult a health care practitioner prior to using evening primrose oil.
May cause headaches and nausea if taken on an empty stomach.
Availability
Usually ships the same business day.
Manufacture
Supplementspot
| | |
| --- | --- |
| 1 - 1 | |
| 2 - 2 | |
| 3 - 3 | |
| 4 - 4 | |
| 5+ | |