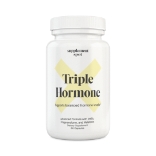 Click to enlarge image(s)
Triple Hormone, 60 capsules
$26.95 each for 1 bottle
$25.95 each for 2 bottles
$24.95 each for 3 bottles and more
BUY NOW!
Triple Hormone
Immune system boosting supplements and antioxidants: the most vital human hormones (pregnenolone, DHEA, and melatonin) combined into a single, easy to use capsule.
What is Triple Hormone?
Each capsule of Supplement Spot's Triple Hormone contains 25 mg of DHEA, 25 mg of Pregnenolone, and 2 mg of Melatonin. Three super hormones are combined into one easy-to-take capsule that costs almost half as much as the three supplements bought separately. Combining these hormones creates a synergy that magnifies all of their individual benefits.
What does Triple Hormone do?
Hormone supplementation is believed by many researchers to be the key to longevity, freedom from disease, and the boost the immune system requires as one ages. Our Triple Hormone makes all of these super hormones easy to use and very, very affordable.
Research indicates that Triple Hormone may:
Provide the energy and libido boost of DHEA
Provide the mental boost from of Pregnenolone
Provide the relaxation and sleep assistance of Melatonin
Slow aging and boosts immunity from the amazing antioxidant defense of Melatonin
Product Ingredients
Ingredients
Serving Size: 1 Vegetarian Capsule
Servings per Container: 60
| | | | |
| --- | --- | --- | --- |
| | Amount per Serving | % Daily Value | |
| DHEA (Dehydroepiandrosterone) | 25 mg | ** | |
| Pregnenolone | 25 mg | ** | |
| Melatonin | 25 mg | ** | |
** Daily Value has not been established.
Other Ingredients: Vegetable Capsule, Stabilized Rice Bran, Magnesium Stearate
Dosage
Suggested Use: Men: Take 1-2 capsules per day.
Women: Take 1 capsule per day.
Triple Hormone should always be taken before bedtime; otherwise the Melatonin will not be effective.
Cautions
As always, consult your physician before taking supplements, especially if you have a medical or psychiatric condition, or are pregnant or lactating.
These statements have not been evaluated by the FDA. This product is not intended to diagnose, treat, cure, or prevent any disease.
Availability
Usually ships the same business day.
Manufacture
Supplementspot